Rufus Dorsey, Director and Writer of "Dick (The Short)," Winner of HollyShorts 2005 Best Short Film Award


DICK (THE SHORT) BIG WINNER AT HOLLYSHORTS! (You can view the trailer by clicking here)
Congratulations to Rufus Dorsey, Director Writer and Producer of "Dick (The Short)" for taking home the 2005 HollyShorts Best Short Film Award. Dorsey was awarded a $150 gift certificate courtesy of The Writers Store.


The Audience Choice Awards were presented by Indiepix. Saturday's winner was "Bluff Point," written and directed by Kelly Rigg and Natashia McGough. Sunday's Audience Choice Award went to "The King of K-Town," written by Aaron Caine and Michael Moeller and Directed by Aaron Caine. The winning short films also win the option to be in the HollyShorts Compilation DVD, which will be available on Indiepix, an online community devoted to independent filmmaking.



Congratulations to all of the weekends big winners!


Brett A. Simmons, Director of Husk , addresses the crowd at HollyShorts 2005



HollyShorts 2005 Festival attendees mingling during an intermission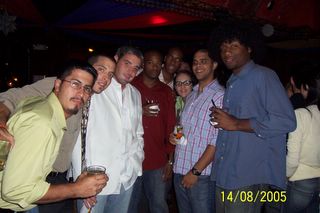 HollyShorts opening night party-goers at The Bungalow Club



Justin Liberman, Writer and Director of Y Nada Mas; Actor Peter Mark Vasquez; Andrew P. Waruszewski, Director of Photography and Producer Brooke Dammkoehler



Theo Dumont, Co-Founder of HollyShorts; Robert McGee, C.S.A. and Dan Sol, Co-Founder of HollyShorts



Dan Sol (left), Co-Founder of HollyShorts with Aaron Caine, Writer and Director of The King of K-Town and Theo Dumont, Co-Founder of HollyShorts



crowd



Actor Michael Sandy with Writer/Director Justin Liberman



Dan Sol of HollyShorts with Daniel Dreyfus of Passionate Marketing and Theo Dumont of HollyShorts