Y NADA MAS (Official festival opening film, not in competition)
Directed and written by Justin Liberman, Y Nada Mas, which debuted at Tribeca earlier this year, is a cinematic tapestry of four vignettes depicting the Mexican-American man and his place within our society. Writer/Director Justin Liberman threads dialog and visceral imagery through four simultaneous stories of the Mexican culture. Centered around the human spirit, all four stories are perceived through a prismatic context utilizing simplicity as a metaphor for life's most meaningful moments.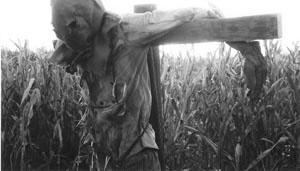 HUSK (Official closing night film, not in competition)
Directed by Brett A. Simmons, and screened at this year's Sundance Film Festival's Shorts program, Husk is a 27-minute short film. Four men, a stalled car, corn fields and scarecrows. Is that a house in the distance?
Tickets for the general public are available now. You can purchase them
here